Is Your Nonprofit A Standout?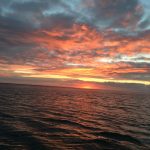 This is our September Your Ingenious Nonprofit Column. Read it to make sure your donor's find you in the myriad of nonprofit lights.
Shine So That Donors See You:
A Fundamental of Individual Fundraising
Your Ingenious Nonprofit
September 2014
Karen Eber Davis
For two years, fulfilling my best friend's dream, I lived aboard a 40-foot motor sailor. We made frequent night crossings. I was the navigator. Before GPS, this involved charts, compasses, and flashlights.
Navigating at night to the …
view article
---