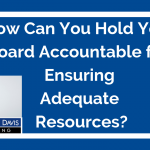 How Can You Hold Your Board Accountable for Ensuring Adequate Resources?
Discover how you can establish expectations in your nonprofit board that they will help to provide adequate revenue for the organization. Learn why peer to peer accountability works best.
If you have any advice on how to grow nonprofit resources and revenue, please leave a comment under this post to share them with others.
If you're not already an Added Value Video subscriber, sign up for your own free subscription so you won't miss out on future tips.
view article
---