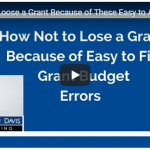 How Not to Lose a Grant Because of These Easy to Avoid Grant Budget Errors
You spent hours, perhaps even weeks, drafting a beautiful, thoughtful, and mission-enhancing grant. Don't blow it by making these three common, easy-to-fix, grant budget errors.
If you have any advice on how to grow nonprofit resources and revenue, please leave a comment under this post to share them with others.
If you're not already an Added Value Video subscriber, sign up for your own free subscription so you won't miss out on future tips.
Follow this link for Your FREE …
view article
---