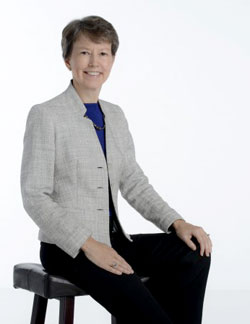 Karen Eber Davis is on a mission to help nonprofit leaders generate the ideas and resources they need to fulfill their goals in creative, effective and, whenever possible, brilliant ways. As the leading authority on income growth strategies for nonprofits. She helps leaders generate the ideas, resources, and funding they need to fulfill their goals and create extraordinary impact.
As president of a consulting firm, she draws on her full set of skills to help nonprofit organizations plan and fund their way to excellence. Her firm has attracted such clients as the Ringling College of Art and Design ($200,000 raised), Circus Sarasota ($75,114 raised), the Evangelical Lutheran Church in America, the Suncoast Workforce Development Board ($628,000), Habitat for Humanity affiliates ($2,054,000), Cardinal Mooney High School ($414,000), the Sarasota Film Festival ($185,000), Meals on Wheels PLUS ($2 million) and more than 200 local, regional and national nonprofit organizations. Her consulting work is respected for its innovation and integrity as well a practicality that affirms the spirit, psychology and funding needs of nonprofit organizations.
Strategy Consulting. Karen Eber Davis' strategic consulting included designing the Sarasota School-to-Work Program, funding and launching the Women Resource Center's Employment Solutions, the ELCA's Florida-Bahamas Synod Resource Center  and many others.  Consultations result in new funding and services for families, new homes, high-impact education for older adults and cultural activities–to name a few.
Leadership. Karen Eber Davis is a frequent leader and speaker at workshops on strategy, mental model building, innovation, nonprofit funding and income. She has presented to and helped to build teams with such diverse audiences as the Sarasota Health Department, Catholic Charities ($228,000 raised) stakeholders, Florida-Bahamas Synod, the Early Learning Coalition, Clothes to Kids and the Association of Fundraising Professionals. In addition, she has designed, planned and facilitated numerous retreats for boards and staffs to help them reach challenging new goals. In early 2009, she was awarded The Nonprofit Resource Center's 2008 Trainer of the Year Award.
Funding. Her activities to increase nonprofit funding raise multi-millions every year and involve new ideas that improve organizations and provide them more than money. Her publications for nonprofit organizations include her monthly column, The Ingenious Nonprofit (delivered to over 45,000 readers), Grant-tastic!, More Local Sources, and Local Sources (now in its fifth edition). These sought-after resources have proved invaluable for nonprofit organizations seeking competitive funding and in using their resources to the max. Her monthly newsletter, Added Value, provides readers with up-to-date information on nonprofit planning, partnerships, earned revenue, individual giving,  and funding models. Other publications include Help I'm Writing a Grant, How to Run a Great Meeting, How to Enlist Great Help and her blog. She has been published and quoted in the Sarasota Herald Tribune, Advancing Philanthropy, The Lutheran, the Lutheran Link, Nonprofit World, and CharityChannel. You can follow Karen on Twitter: kareneberdavis. Her upcoming book, 7 Nonprofit Income Streams: Open the Floodgate to Sustainability will be published in fall 2014.
Background: Before founding the firm, Karen Eber Davis developed the Sarasota County Community Development Block Grant Program. Under her leadership, this infant program received the National Association of Counties National Affordable Housing Award for the Down Payment Assistance Program. The ongoing program has helped over 1,800 families realize their dreams of home ownership. She also worked with the City of Ft. Lauderdale and the Florida Department of State, Division of Cultural Affairs where she developed the division's first audit program. In an earlier position with Good Shepherd Lutheran Church in Tampa, she developed three youth and children ministries, senior adult and family activities. Her work with the Florida Synod of the Lutheran Church in America supported youth ministries in congregations across Florida.
As a Graduate Fellow, she earned her Masters Degree in Business Administration (MBA) from the University of South Florida with a focus on finance and marketing. She graduated magna cum laude from the University of Connecticut with a bachelor's degree in psychology. During her undergraduate studies, she participated in two award-winning research projects, one on self-esteem and a second on children's concepts of sexual identity.
She is a member of the Society of Advancement of Consulting, the Association of Fundraising Professionals and the Nonprofit Consultants Connection.
As a testimony to her organizational skills, she once planned a six-month cruise to the Bahamas during which, other than fresh produce, the only items that ran out were TP and chicken bouillon.
Call or email today to learn how these skills can be used to help lead your nonprofit organization to further excellence and to develop a long-term funding strategy.
For testimonials about how Karen has helped nonprofit to develop sustainable income and innovation, click here.