Don't miss out, click on the book images to buy or download it.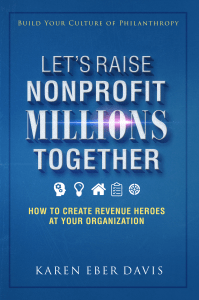 Let's Raise Nonprofit Millions Together: How to Create Revenue Heroes at Your Organization
Can your nonprofit really raise millions? Absolutely. This practical guide shows you how to build a fundraising team that raises millions of dollars—so that you can make your mission happen.
Everyone has a role in bringing revenue and resources to your nonprofit. Let's Raise Nonprofit Millions Together offers you a framework to grow board members, staff, and others who champion—and even discover they enjoy—fundraising. You'll learn how to rally your team to raise revenue together.
Let's Raise Nonprofit Millions Together reframes fundraising from a mystery for experts to a standard operating procedure for any nonprofit. You'll discover:
why you're being selfish if only a few people grow resources;
ways to uncover people's fundraising talents, even if they doubt such abilities exist;
how to transform anyone into a revenue hero;
the six practices that transform strangers into fans;
how to grow your culture of philanthropy.
This book transforms the nonprofit cliché "build a relationship" into specific tips and concrete ideas you can use today. Together you can raise millions. This book shows you how.
Free Resources, including a chapter to download.
---
7 Nonprofit Income Streams: Open the Floodgate to Sustainability!
In this practical and persuasive book, 7 Nonprofit Income Streams, you will discover the seven streams of nonprofit income. Drawing on two decades of investigation and more than 1,000 interviews with nonprofit leaders, Karen Eber Davis clarifies the confusing, competitive, and messy world of nonprofit income so you can:
Earn more money in one year than the previous three.
Discover dramatic success stories to replicate.
Create new enthusiasm for giving money and resources to your nonprofit.
Expand your strategy to enhance your mission and sustain your nonprofit.
Get practical, in-the-trenches advice and find tips you to use now.
Learn the successful strategies used by dozens of nonprofits. Discover how to weave the seven nonprofit income streams into a viable strategy for your nonprofit—and pre-test it. Be guided as you design ways to propel your nonprofit toward the income it needs to sustain it for the long haul. 7 Nonprofit Income Streams is the real deal to make your nonprofit profitable. To read more click on the book.
Free Resources
---
YOU and Your Nonprofit Board: New Thinking from the Field's Top Practitioners, Researchers, and Provocateurs
Terrie Temkin guides a star-studded cast of collaborators in creating a board volume that delivers the wisdom of the nonprofit world's leading practitioners, researchers, and provocateurs. This easily-digestible book is a must for board directors and anyone who is interested in effective nonprofit leadership. The focused, short-essay format makes it easy for the reader to absorb the authors' thinking on a variety of topics: some traditional—such as board member roles and responsibilities, recruitment, meeting management, and evaluation—and others not so much. For instance, you'll find articles on coaching for directors, the value of conversation, and several new structures for governance.YOU and Your Nonprofit Board: Advice and Practical Tips from the Field's Top Practitioners, Researchers, and Provocateurs is a book of how not what. Eschewing a single perspective of governance, it is suggestive, not prescriptive. And it invites you to be part of the dialogue. It is the first governance book of its kind to:
Re-examine nonprofit governance at its essence
Challenge dogma about the board versus chief executive role
Let YOU decide if you still agree with the old thinking on governance
Take aim at myths about governance that hold organizations back
Provide practical, in-the-trenches advice and tips you can use NOW
Whether you are new to the field or have been immersed in it for years, you will find new ideas to help you navigate today's fast-paced, information-saturated reality in which wise practice is rapidly evolving.
Karen is proud to be one of the "star-studded cast of collaborators" who helped to write this book. You'll find Karen's contribution, "Almost Magic: How to Create a Board that Supports Your Nonprofit" in Part Two: Making It Work.
---
E-books
Don't miss out, click on the book images to buy or download it. 
E-books
Awaken your thinking about corporate social responsibility (CSR) and business philanthropy. This e-book brief shows you how to generate greater performance and profits at your firm with strategic philanthropy. Discover how to improve your community, improve your profits and performance, and reach your philanthropic potential. This brief introduces you to the untapped power of strategic corporate social responsibility.
(Publication February 2017)
Free on Kindle.
---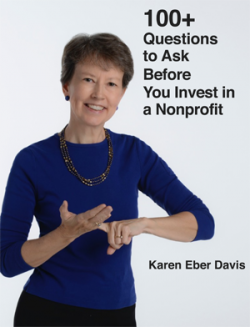 100+ Questions to Ask Before You Invest in a Nonprofit
Stop! Before you invest your time or resources in a nonprofit organization, ask questions. Why? To save time, money, and aggravation. This e-book is chock full of ideas about what to ask in a dozen categories. Read it to find questions to ask to decide whether to donate, volunteer, join the board, or become a staff member. Ask to find out if your gifts will make a difference. Ask to find excellent organizations to help you change the world.
(Publication: March 2016)
Free: To get your copy, follow this link 
---