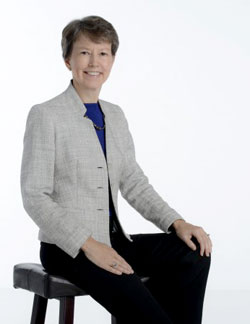 Karen Eber Davis works with leaders who lead from vision, not fear. She helps organizations and businesses discover propulsion tools to grow their profits and performance.  As the leading authority on nonprofit revenue, she helps clients create dynamic partnerships, which make an extraordinary impact. People engage Karen to help them grow their revenue by up to 300 percent. What they gain by working with her are strategies that improve their organizations forever.
"Working with Karen is fantastic, easy, logical, and effective—it absolutely saved us time and money and helped us raise over a million dollars."
Christine M. Smith
Resource Development
The Salvation Army, Manatee County
Her firm attracted clients such as the Ringling College of Art and Design ($200,000 raised), Circus Sarasota ($75,114 raised), the Evangelical Lutheran Church in America, the Suncoast Workforce Development Board (revenue growth of over 600 percent), Habitat for Humanity affiliates ($2 million-plus), the Sarasota Film Festival ($185,000), Meals on Wheels PLUS ($2 million-plus) and 200+ other organizations. Her consulting work is respected for its professionalism, innovation, and practicality.
Jedediah Shoemaker, Associate Director at the Sarasota Film Festival, said, "The best part of working with you was using you as a Lifeline—like in Who Wants to be Millionaire. I got a lot of helpful, reliable, constructive, and objective feedback. It was a huge confidence assist. It saved me lots of time and sometimes my sanity."
Consulting. Karen's management consulting included designing the Sarasota School-to-Work Program, funding and launching the Women Resource Center's Employment Solutions, the ELCA's Florida-Bahamas Synod Resource Center and many others.  Consultations discover new revenue, improved products, and services, and save time. Her revenue growth activities raise multi-millions of dollars yearly. They stimulate new ideas and tap underutilized assets.
Kathleen M. Tunney, MS, President, Associates for Human Services, Inc., said, "My favorite things about working with Karen are her personality, availability, expertise, and the concrete goals we set for our work."
Speaker. Karen is a frequent leader on strategy, innovation, and revenue growth. She presented to and helped to build teams with such diverse audiences as BoardSource, Catholic Charities ($228,000 raised), Florida-Bahamas Synod, the Early Learning Coalition, Meals on Wheels of America,  and the Association of Fundraising Professionals. Also, she designed and lead numerous retreats to empower boards and staff to support income growth. In 2008, the Nonprofit Resource Center recognized her as the Trainer of the Year. 
Ted Puckorius, an executive committee member with Habitat for Humanity shares, "I've attended a lot of facilitated sessions by all kinds of professionals. What they did, didn't hold a candle to Karen's leadership."
Resources.  In 2014, CharityChannel Press published her most recent book, 7 Nonprofit Income Streams: Open the Floodgate to Sustainability. ("Insightful, indispensable, and inspiring," said Kathy Kingston. Roland Emerton called it a "Must Read.") Other publications include her column, The Ingenious Nonprofit (delivered to over 45,000 readers), Grant-tastic!, and Time Management for Nonprofit Leaders. These resources plus others, including Mission Brilliant podcasts, provide invaluable support for organization revenue growth and maximizing returns. Her newsletter Added Value provides readers with up-to-date information on strategy, thinking, revenue, and fresh leadership opportunities for businesses and nonprofit.  Among others, she has been published and quoted in Growth Igniters Radio, Sarasota Herald-Tribune, Advancing Philanthropy, The Lutheran, The Philanthropy Show, and Nonprofit World.  Read her blog here.
Background: Before founding her firm, Karen Eber Davis developed the Sarasota County Community Development Block Grant Program. Under her leadership, this infant program received the National Association of Counties National Affordable Housing Award for the Down Payment Assistance Program. To date, the program helped over 1,800 families realize their dreams of homeownership. She also worked with the City of Ft. Lauderdale and the Florida Department of State, Division of Cultural Affairs where she developed the division's first audit program. In an earlier position at Good Shepherd Lutheran Church in Tampa, she organized senior, youth and children groups plus family activities. Her youth staffing work with the Florida Synod of the Lutheran Church in America supported youth ministries in 120 congregations in Florida.
As a Graduate Fellow, she earned her Masters Degree in Business Administration (MBA) from the University of South Florida with a focus on finance and marketing. She graduated magna cum laude from the University of Connecticut with a bachelor's degree in psychology. During her undergraduate studies, she participated in two award-winning research projects, one on self-esteem and a second on children's concepts of sexual identity.
As a testimony to her organizational skills, she once planned a six-month cruise to the Bahamas during which, other than fresh produce, the only items that ran out were TP and chicken bouillon.
Call or email today to learn how you can partners with Karen.
Click here for client testimonials about how Karen helped them and their organizations.