New Twists on Practical Business Philanthropy, How to Make Your Sponsorships Standout This Year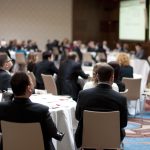 At a recent meeting, Kevin Cooper, head of the Sarasota Chamber of Commerce, did a brilliant job of thanking his sponsor. In his remarks, he acknowledged the sponsor, and also cited how the sponsor exemplified the day's topic. Similarly, when Lori Ruth, with the Observer Media Group, introduced me at a pro-bono speech in December, she based her comments on my in-depth bio and what she learned from interviewing me.
Both introductions differed significantly from the typical, mind-numbing, "Let's all say thank you to our sponsors with a big hand." They suggest possibilities of how to make you sponsorships standout.
Here are three specific ideas to adapt in 2018.
Before
Why did you choose to sponsor this event? Draft an introduction to your firm that provides a bullet list of why and how your firm's work ties into the event. Ask the person who introduces you to include these points in their remarks.
During
Ask to be uplifted as an example. In my presentations, when possible I include local case studies from audience members. Besides my database, where do I get these examples? I ask the host for suggestions. If the speaker doesn't offer this option, the sponsor can closeout the talk by sharing local examples that include your work.
End
Take away. Endings and beginnings are the most critical part of any experience. After eating at fine restaurants, people remember the appetizer and dessert more than the main course. Therefore, provide the last bit of sweetness. Offer a drawing for your product. Or, buy the table arrangements and give them to the person with your card taped to the bottom of their seat.

When it comes to nonprofit partnerships it's not how much you spend; it's how much you achieve. To activate these ideas, you'll have to be proactive, but isn't it worth it to reach your sponsorship goals? To discover more insights, download, Can Philanthropy Actually Help Your Bottom Line?

Tags: Added Value, community building, corporate funding, leadership, partnerships, personal growth, strategy


Categorized in: Added Value, Corporate Social Resonsibility, Fundraising, Skills and Tactics, The Link