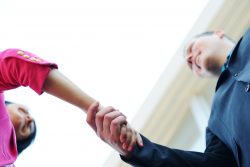 Last month, I spoke in Cincinnati for the CPA firm, Barnes Dennig. Director Brad Chaffin who specializes in nonprofit accounting shared, "I get to work with the nicest people in the world." People engage in nonprofits for many reasons including fine individuals and profits.
Business leaders consistently tell me that they know intuitively that community involvement helps their businesses. I'm not talking about getting engaged for money, although people sometimes assume this. Rather, this is about how community engagement, especially with nonprofits, organically generates business "bi-products." Engagement increases your business returns and makes your community work more effective.
Today, the focus is on increasing your numbers. As a business leader to succeed, more people need to know about you. Let's unveil this process. How and why does this happen?
How Community Engagement Fuels Your Numbers
You serve on a board. You recognize that your fellow members represent new or renewed contacts. How can you help the board function better? Encourage small group discussions. The more people know each other, the better group discussion quality. Break into twos to discuss topics. During future meetings mix it up until everyone engaged in a one-on-one conversation. What the bi-product? Better connections and increased chances of helping fellow members directly and by giving great referrals.
Wait!
Besides the board, nonprofits consist of "neighborhoods" built around shared passion. Here are seven typical nonprofit sub-groups. (The sizes are based on an average donor-funded nonprofit.)
Staff members-12
Volunteers-20
Former board members-5
Major gift donors-30
Vendors-18
Supporters, such as event attendees-50
Collaborative partners and sister agencies-20
Working well with these individuals will help to create more mission. Connecting will enhance your returns. You'll gain behind the scenes insight, different perspectives, and catch new ideas. The bi-product? Your circle of influence grows.
You catch my drift. Benefiting the community requires effective community engagement which in turn requires meeting new people. Growing the number of people that know about you is an essential component of business growth.
To learn more about how corporate philanthropy grows business income, call Karen at 941-924-4860.