I inaugurated SOS because I've noticed over my years in the profit and non-profit sectors that organizations with a coherent giving strategy improve business results even if that's not the original intent. Organizations with incoherent approaches to giving generally don't see business results even if they give with them in mind.
SOS grows your return on your investments in sponsorship, grants, and similar partnerships. Very few businesses obtain measurable benefits from their giving. SOS helps to draw a clear connection between giving and profits. SOS takes advantage of your strategy, first-class- tactics, and cross-sector innovations.
With SOS you:
Identify untapped opportunities to drive more ROI.
Ensure your sponsorships grants, and similar partnerships match, align, and augment your business strategy.
Identify marketing and branding—some customized—to activate your investment.
Explore synergies between potential partners and activities.
Discover untapped assets.
It includes:
Strategy: Reviewing, ranking and critiquing proposals and opportunities to match your strategy.
Tactics: Creating applications, request documents and evaluations, as needed, to generate comparative information.
Tactics: Identifying overt and hidden values.
Innovation and Tactics: Activation advice.
Innovation: Capitalizing on patterns, preferences, and connections for more meaningful, meaty, and enticing opportunities.
Example
A law firm receives ten requests for support each quarter. Requests come from staff, client referrals, and friends. While the firm is proud of the support, it believes more traction is possible. With SOS, it selects requests to pursue with an understanding of:
How requests align with the firm's strategy,
Possible signature customer experiences,
Ideas on how to use each of the many benefits the nonprofit offers and substitutes to request (historically, the firm used just half of the benefits,) and
How to connect requests to create a cohesive approach.
The law firm quadruples its return on investments the first year, a return it expects to continue and grow.
Why Your Corporate Responsibility Plan Needs SOS
Rather than being proactive, many corporate responsibility plans are haphazard. To be proactive, you need a strategy, good tactics, and innovation.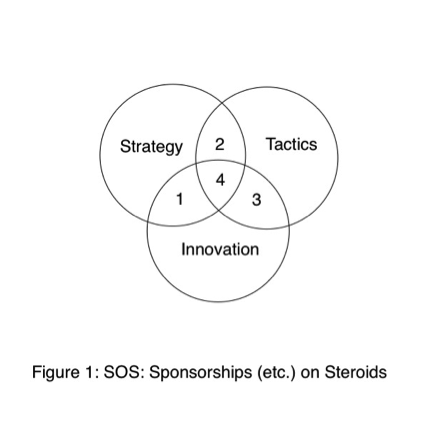 If you have strategy and innovation without good tactics, everything falls apart. You fail creatively. (1)
If you mix good strategy and good tactics without innovation, your wheels spin. You fail to make much traction. (2)
If you have good tactics and innovation, but lack strategy, you lack alignment. You can end up anywhere. (3)
Obtaining return on your corporate philanthropic investment requires strategy, tactics and innovation. (4)
Getting SOS
With SOS, I will help you strategically (how to align opportunities with challenges, how to review requests, how to gain visibility, etc.), tactically (critiquing requests, announcing preferences, overcoming objections, etc.) and to innovate (discover untapped assets, signature experiences, and make event sponsorships more dynamic, etc.). SOS is a six-month program, enough time to help you develop a strategy, a process, and gain results. The fees are based on your current and expected giving (both in-kind and cash) and recouped through increased business, better branding, increased employee loyalty, and the better business climate you'll create.
Tier One:
For organizations with current and expected giving (in-kind and cash) of $20,000 or less: $5,000
Tier Two:
For organizations with current and expected giving (in-kind and cash) from $20,000 to $50,000: $8,750.
Tier Three:
For organizations with current and expected giving (in-kind and cash) of more than $50,000: $12,500.
Contact Karen to get SOS.
—
Karen always helps us to think outside-the-box and focus on what we can do and ways to make it work. Working with Karen is fantastic, easy, logical, and effective—it absolutely saved us time and money and helped us raise over a million dollars."    
Christine M. Smith, Director of Community Relations, The Salvation Army, Manatee County
"Thank you for the thought-provoking information about effective giving. You gave us a lot to think about and discuss."
Annette Zang, President/Owner, Easi-Dig, Inc.
"I love working with Karen because not only is she very good at discovering what it is that I need and she has great instincts. The combination of the two things offers amazing outcomes that exceeds my expectations."
Jennifer Silva, Executive Director, The Sustany Foundation